As of this afternoon, we're officially sold out of the Basic Setups for good! (Though we'll still have Alpha trucks & replacement parts around for a while, the decks are gonzo.)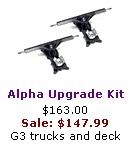 For those of you who've been waiting to get on the G3s but can't quite afford a complete board yet, we've got the Upgrade Your Alpha Kit now on the Freebord Store. 2 G3 trucks and a G3 deck of your choice for under $150 – 10% off the a la carte price.
Check the store for sizes and graphics that are in stock.