Even though the economy sucks, Freebord is still working on getting the word out there with some online advertising. But this time around we're letting our riders speak for us. Cuz we think sometimes you guys can say it best.
Announcing the Ask A Rider campaign. We're running banners on a bunch of websites including Vice Magazine, VBS.tv, Jackassworld, AlliSports and more,  giving people a real number to call a rider and talk to them about Freebord. There's nothing like hearing it straight from the source.
For our first run we chose Team member and Rider of the Year 08 Bob Glashan and equipped him with a dedicated cell phone just to answer calls from whoever decides to see if it's a real person on the other end. Why? Bob's a ripping rider, he's been around the company for a while, and well, his name looks hella funny on a banner. So ask us whatever you want – Bob is standing by.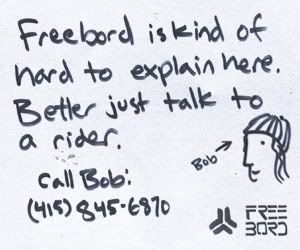 Check out our banners in action – screenshots from Vice, VBS.tv, Jackassworld and AlliSports.